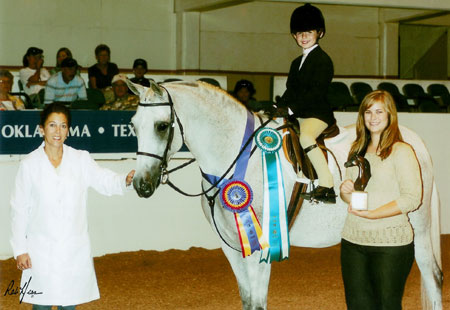 Custom Designed Training Programs

Training and Conditioning
We specialize in starting and training Arabian show horses. We are able to handle horses at any stage of their lives, from birth and beyond. Horses are taught to respect your personal space and become good partners in riding and competition. We have many years of experience teaching problem horses or horses with bad habits. Horses are taught to be ridden, slowly over time, at their individual pace. We utilize gentle teaching techniques to get the maximum potential out of each and every horse. Our goal is for every horse to be happy, safe, and productive. We are able to teach any breed of horse the basics of being ridden.

Stall Boarding (Full Service)
Horses are fed premium quality hay and grain each morning and are walked out to shaded exercise pasture during the day. Horses are then brought back into their individual stalls and fed again in the late afternoon. Stalls (12ft x 12ft) are cleaned daily and have thick and soft pine-shaving bedding. Horses do not have to compete with other horses for their food! Horses are also blanketed in winter. Our system offers the best possible situation for your horse's mental and physical health. Horses thrive on our consistent schedule. All horses are wormed and vaccinated on the same schedule. We also manage and schedule farrier service. Professional Management/Owners live on-site and maintain all horses at the highest level possible.

Riding Lessons
Riding lessons are approximately 1 hour for ages 7 to adult, and cover every aspect of horsemanship as well as riding. We show you how to properly handle and communicate with your horse.

Please call 512-657-8612 to schedule. Lessons are available Monday through Saturday, mornings and afternoons!

---
Competition Shows

Our riders compete at competitions across the Nation. There are local shows, Regional shows and the U.S. Nationals show that we attend. It is here that your hard work and dedication pays off when you are able to compete against other horses and riders. It is great fun for the entire family!
---